Financial Empowerment Workshops
Is It Time To Put Some Inspiration Into Your Educational Programs?
Why not try something different, new, and fun!
About the Speaker
Beck is a dynamic speaker and the author of an inspiring new book, The Art of the Plan. She is dedicated to enhancing financial education for corporations, associations and various 501c3 organizations, through a fun and common sense approach to empowering attendees to seek out their ideal life and then implement a plan to get them there.
Beck talks about real-life success stories and brings a whole new light to the idea of successful financial planning. She doesn't just offer counsel – she has followed what she teaches herself. She lives a life many only dream of, embracing music, travel, and art along with her passion for financial planning. Her skill as an artist, for instance, is on full display in The Art of the Plan, which she colorfully illustrated.
The organizations that have sponsored these workshops have found her programs to be one of the most popular in their employee and membership benefits packages. Nancy inspires and educates people on the benefits of financial planning and provides customized, full-service financial planning to participants who are seeking more individualized assistance with achieving their financial objectives.
Beck is a member of the FPA, (Financial Planning Association), NAWBO (National Association of Women Business Owners), SHRM (Society of Human Resource Management), as well as the Lawrence Chamber of Commerce. She has served as an adjunct faculty member for the College for Financial Planning, CO. She has been quoted in the Indianapolis Business Journal and The Indianapolis Star and periodically writes articles for various local newspapers.
Beck is also an award-winning portrait and plein air (in which works of outdoor scenes are created live onsite) artist. Her work has been accepted in the prestigious Indianapolis Hoosier Salon, from which she received a purchase award for one of her portraits. You will find her art exhibited in various galleries in the Florida Keys, in Indianapolis, and on her website, www.NancyBeckFineArt.com. Additionally, one of her paintings is exhibited in the permanent collection of The Truman Little White House Museum (in Key West, FL), after winning the 2016 Plein Air Competition.
She and her husband, John, have been avid world travelers seeking locations where they can ride bikes and where she can paint en plein air. Since the pandemic, however, they have focused their touring within the United States in their RV, which they endearingly refer to as "ET" (for "Expensive Toilet"). The name was inspired by one of her clients.
Nancy is also an amateur musician, and always has one of her much-loved ukuleles, mandolins or guitars ready to play with friends and colleagues she meets while biking and traveling. Playing music reminds her to "Play More" in general, a motto she tries to instill in the minds of her clients as well.
"Life is short, and sometimes taken a bit too seriously," she often says. "We work to develop financial solutions for our clients that will enable them to use their money for the things that are important to them. 'Play More' might sound a little trite, but if we don't remind ourselves to enjoy life while we can, we often never will."
Nancy provides financial services for clients throughout the country. She and her husband reside in Indianapolis, Indiana and also in Key West, Florida.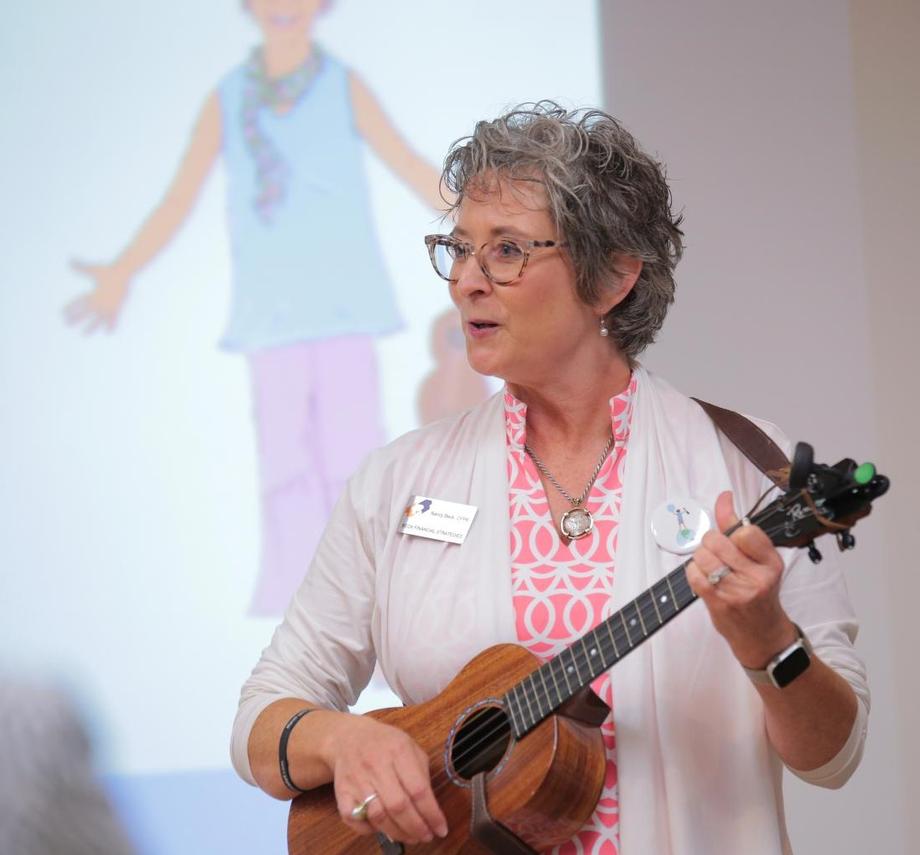 "An organization is only as financially sound as its members. Inspire them with knowledge, and they will empower you with loyalty." Nancy L Beck
Enjoy the benefits this program will bring to your organization
Employers
Promotes Your Benefit Package

Beck, a dynamic and seasoned speaker will be well versed on your company's benefits and perks. Because she is an independent advisor, she can promote your benefits and educate participants on how to optimize them without the perception that she is selling. There is no benefit to BeckFS if attendees partake in your benefit package, which makes the program desirable and more credible.

Enhances Productivity

By providing these popular programs to your employees and their spouses, you reduce financial stress, which in turn, will allow your employee to be more focused when that are at work.

Raises Your Employee Friendly Reputation

In today's world, finding good talent is difficult and the competition is fierce. These popular work-site programs instill the idea that you care about the individual and your company culture strives to bring better balance to their lives and the lives of their families.

Satisfies ERISA 404 (c) Requirements

At your request, the program can include general information on the investment options in your retirement plan that will assist your H.R. department in satisfying this ERISA requirement.
Associations and Charitable Organizations
Improve Loyalty
Promote Your Mission
Raise Awareness about Charitable Planning
Satisfy Your Community's Need for Continued Financial Education
Customize the program for your organization's specific needs
Books and materials available