Our Under One Roof Planning Team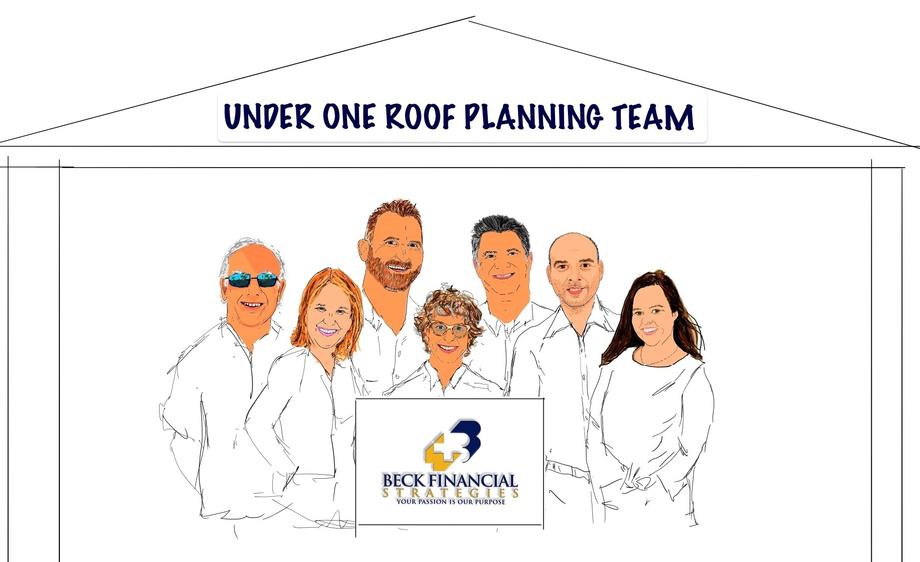 Beck Financial Strategies was founded over 30 years ago by Nancy Beck CFP®, as an Independent Fee-based financial planning firm. As the practice grew so did the company vision.
"Today, our clients need more information in a coordinated fashion that they can access quickly and preferably all UNDER ONE ROOF."
In lieu of that vision Beck Financial Strategies has brought in other independent advisors to help complete the total planning needs that clients have today.
Our "One Roof Planning Team" Includes
Nancy L Beck CFP® professional and Founder of Beck Financial Strategies
Beth Drury Licensed Associate, Beck Financial Strategies
Tony Sanchez Licensed Associate, Beck Financial Strategies
Adam Warnke Elder Law and Estate Planning Attorney, Warnke Law
Jason Kieninger CPA JMK CPA Group
John White Senior Insurance and Medicare Specialist
(see OUR TEAM to read more about each of our team members)
When it comes to financial and investment planning we believe there are really 2 questions clients want to have answered often and accurately.
What is my net worth today?
How much money do I need or want to feel comfortable in my future?
We provide those answers on a daily basis if need be, by providing interactive tools that allow clients to see their Net Worth in real time, anytime they'd like as well as watch their progress in getting to their "Comfort Number." The real fun begins when clients have a good sense of where they are and where they are going and they can then "PLAY MORE" in their daily lives. That is why we do what we do. Truly Your Passion is our Purpose.
Nancy L. Beck, CFP®, President of Beck Financial Strategies
Nancy is the founder of Beck Financial Strategies, an Independent Fee- Based financial planning firm located on the North-East side of Indianapolis. She has provided customized financial planning services and educational programs for over 35 years.
She is a member of the FPA, (Financial Planning Association), NAWBO, (National Association of Women Business Owners, SHRM (Society of Human Resource Management), as well as the Lawrence Chamber of Commerce. She has served as an adjunct faculty member for the College for Financial Planning, CO.
Nancy conducts a series of inspirational programs focusing on Money and Purpose for corporations, churches and other organizations. She is also a Federal Retirement Planning Professional and provides benefit education and training for many Indianapolis companies. Many, who sponsor these workshops, find the programs to be one of the most popular, and a key component in their employee benefit package.
Nancy is married and enjoys art, music and traveling with her husband, John White, in their RV named "E.T." for "Expensive Toilet". They reside in Indianapolis, IN and Key West, FL.
---
Beth Drury, Licensed Associate at Beck Financial Strategies
Beth is a Licensed Associate who plays an integral part in helping clients compile the necessary information to build an accurate financial plan. In addition, Beth works with our clients directly maintaining their BFS Money Site so that it remains up to date, and connected to all of their investment accounts.
Beth is a licensed Life & Health and Property & Casualty agent. In addition she holds the FINRA Series 7, & 66 securities licenses. She has a Master of Business Administration from the University of Indianapolis, where she concentrated in Finance and Organizational Leadership and a Bachelor of Science from Ball State University, majoring in Financial Planning and Minoring in Risk Management and Insurance.
Beth also a writes a humorous and popular Blog called A Mess Of A Mom, and she and her husband Jim enjoy their 2 children, Charlie and Cora.
Tony Sanchez, Licensed Associate at Beck Financial Strategies
Tony is a fully Licensed Associate Representative and is our Client Services Specialist focusing solely on providing the best client experience possible. He is your go-to person for any questions or service requests pertaining to your existing life and annuity policies as well as investment accounts. Tony also is our Director of New Relations and will be your initial contact for scheduling appointments and setting up new accounts.
Tony has over 18 years of industry experience and is a licensed Life & Health agent. In addition, he holds the FINRA Series 7 and 63 securities licenses.
He has lived in three states – IN, NC, and TX – and has always enjoyed meeting new people and learning their story. Tony also enjoys traveling and getting outside as much as possible to find new places to ride his mountain bike.

Bethany Alley Marketing Coordinator
Bethany is our Marketing Coordinator focusing on the mission of Beck Financial Strategies which includes building partnerships with companies and organizations seeking to enhance financial literacy for employees and patrons. With the launch of the new book, THE ART OF THE PLAN- A Guide to Financial Success So You Can Play More, Bethany coordinates Nancy Beck's speaking opportunities with groups seeking to bring financial planning into the 21st century; the idea that with a plan, everyone can aquire their ideal life.
Bethany is a recent graduate of Xavier University, where she earned a Bachelor of Science. At Xavier, Bethany majored in Economics and minored in Business. Bethany is working on becoming a Life & Health Insurance agent, as well as a holder of FINRA Series 7 & 66 securities licenses. We hope that in the coming months Bethany will join our advisory team.
In her free time, Bethany enjoys spending time at the lake with her family and visiting her boyfriend, Grant, and his family in Fort Wayne, Indiana.

Adam M. Warnke* is a VA Accredited Attorney
Adam devotes his practice to Estate Planning, Elder Law, Asset Protection Planning, and Special Needs Planning. Part of accruing wealth is having a plan to protect and enjoy it, and to efficiently transfer an inheritance. Having experienced the challenges and adversity of disability, Medicaid eligibility, and long-term care in his own family, Adam is passionate about educating and assisting clients in navigating and planning to avoid those challenges.
Adam received his law degree from Indiana University Maurer School of Law, Bloomington, and was admitted to the Indiana State Bar in 2000. Early in his career, he served as General Counsel of the IN. Department of Natural Resources, as chief of Tobacco Litigation for the Indiana Office of the Attorney General, and in developing innovative, patient focused management structures for health care practices. He is a member of the Elder Law and Probate, Trust, and Real Property sections of the Indiana Bar Association and Indianapolis Bar Association.Prior to law school, Adam earned his AB in French and Biology in 1994 from Wabash College, in Crawfordsville, Indiana, after growing up in Indiana.
Since law school has made his home in Indianapolis. In his free time, Adam enjoys competitive Masters Swimming, music, and the joys of being a full-time marching band parent to his two teen daughters.
---
Jason Kieninger *, CPA Owner President JMK CPA Group, LLC
Jason has been a CPA for 23+ years and has specialized in tax accounting during that time. He previously worked for Katz, Sapper & Miller, Ernst & Young and Deloitte and for the last 13 years was a partner at a 15 person local firm on the north east side of Indianapolis.
Jason left that firm in May of 2019 and started his own company, JMK CPA Group, LLC specializing in individual and small business taxes. He has an office on the south side of Indianapolis as well as in the office of Beck Financial Strategies, located on the Fort Benjamin Harrison campus.
Jason graduated from IUPUI in 1996. He is married to Christy and has two daughters Kayleigh and Gracie that are in high school. He and his wife Christy currently live in Franklin Township.
---
John H White, *Senior Insurance Specialist
John graduated from Indiana University in 1973 with a BS degree and a dual major in Marketing and Accounting from the Kelly School of Business. His professional career was spent in sales and sales management retiring eleven years ago.
Currently, as an independent life and health insurance agent, John uses his professional skills to work in matching senior's needs with Medicare Supplement, Medicare Advantage and prescription drug plans. He works with the clients of Beck Financial Strategies, American Health network and Oak Street Health representing the products of United Health care, Humana and Anthem.
John is married to Nancy Beck, has 2 children, 3 grandchildren and 1 great-grand child. He is a Master Gardener, HAM radio operator, and enjoys bicycling, traveling and reading.
*Not affiliated with J. W. Cole Financial, Inc. or J.W. Cole Advisors, Inc.